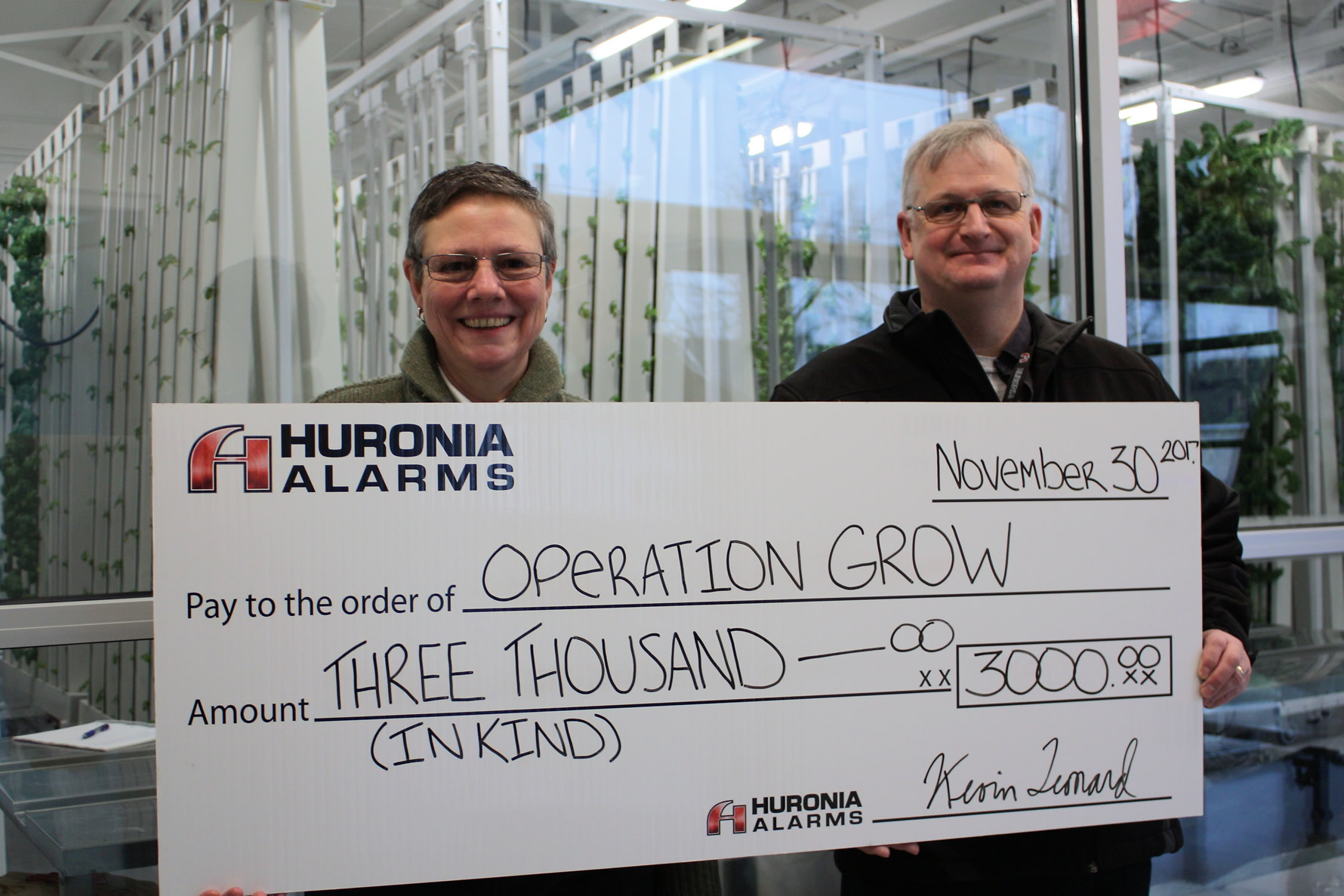 Huronia Alarm & Fire Security Inc. (HAFS) recently donated an access control security system to Operation Grow.  Operation Grow is an initiative of Huronia Transition Homes.  The program is designed to provide women with low-barrier employment opportunities a chance to gain valuable work experience apprentice-skills, earn a living wage and transition to mainstream employment, by growing fresh produce and herbs year-round, through unique vertical farming and cultivation practices.  The greens will be sold by volunteers from a retail space at their new location; 436 Bay Street, Midland, Ontario.
"Security for the new premises and the safety of the people who work and visit the property is of the utmost importance," said Kevin Leonard, COO of HAFS.  "Huronia has been long-time supporters of Huronia Transition Homes, and I personally fundraise for this organization through my association with the Midland Y's Men and our annual Walk a Mile event.  To be able to donate and install security equipment that will help ensure that the women and volunteers at Operation Grow can work safely and securely is a perfect fit to HAFS's corporate giving policy, and we are thrilled to be involved in this really unique self-sustaining program."
"There is a peace of mind that these access control products give our staff, volunteers, residents and visitors," said Kathy Willis, Executive Director at Huronia Transition Homes. "Huronia has been an outstanding community partner and this donation is an indication of their commitment to ensuring a safe and secure environment for our women."
Huronia Alarm & Fire Security Inc. has been in business for over 45 years and is Central Ontario's leading provider of home and business security and monitoring services, CCTV, fire and safety, lock, key and safe products and services, home theatre, audio and video consultation and entertainment room design, as well as cabling and smart home wiring for today's home automation requirements.
 Photo Caption:  Kevin Leonard, Chief Operating Officer of Huronia Alarm & Fire Security Inc. presents a cheque for $3,000 to Kathy Willis, Executive Director at Huronia Transition Homes' new social enterprise Operation Grow.  This represents the dollar-value amount of the access control security system that Huronia donated to the Operation Grow facility.